Our Wealth Management Offering
At Almega Wealth Management we follow our wealth management formula, WM=IC+AP+RM, to define how we serve our clients, it provides us and the client with purpose and direction.  The wealth management formula is simple and elegant — it defines wealth management as the merger of investment consulting with advanced planning and relationship management.
WHAT IS WEALTH MANAGEMENT?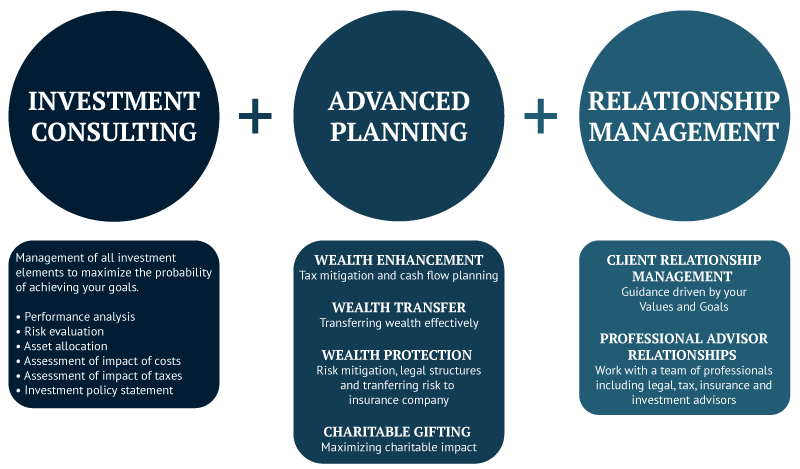 Our wealth management offering specifically addresses the Top 5 key concerns successful families have:
Access to best-in-class institutional level investment management
Mitigation of taxes and cash flow management
Providing for heirs and prepare them to inherit responsibly
Protect against litigation and unforeseen events
Maximize charitable gifts
We start with a DISCOVERY MEETING where we develop your Total Client Profile.  This process is a deep dive into you and your family's values and goals; using mind mapping we gain a true understanding of you and your family's dynamic needs.  From there we will present your WEALTH MANAGEMENT PLAN and make a determination of whether or not working together makes sense.  We only work with those families for whom we can have a significant impact.
At your first Regular Progress Meeting we will present your ADVANCED PLAN.  The Advanced Plan is a comprehensive blueprint for addressing your advanced planning needs that is developed in coordination with our network of professional advisors (attorneys, accountants, business advisors, and insurance specialists).  At subsequent progress meetings, we collaborate and decide how to proceed on specific elements of the wealth management plan.  In this way, over time, every aspect of your complete financial picture is addressed.  Keep in mind that you are an active participant throughout the process.  At every step, re-examine your commitment to the process and make sure you have the information you need to make informed decisions.
To schedule an Intro Call, click below or call (888) 4-ALMEGA